Click the blog title to view all my game pictures from UMD's 5th National Championship Win!

After nearly 3 full overtimes, equaling 119 minutes and 26 seconds of hockey (4 hours and 24 minutes real time), the UMD Bulldog women's hockey team became National Champions, for the 5th time! Neither team scored in a first period that had 19 shots between the two teams, and one penalty each. In the second period, Cornell's Melanie Jue scored the only goal, a powerplay goal, at 13:44, and gave Cornell a 1-0 lead at the second intermission. Cornell took a penalty at 19:11 of the second period, and Emmanuelle Blais scored a powerplay goal 18 seconds into the third period to tie the game at 1. Jamie Rasmussen capitalized on another Cornell penalty, at 14:42, skating in deep and burying a centering pass to give the Bulldogs a 2-1 lead. Less than two minutes later though, Jue tied the game for Cornell, batting in a puck that popped up in the air and bouncing off UMD goaltender Jenny Harss. Cornell took a penatly at 16:42 of the third period, but UMD couldn't capitalize, and the game went to overtime.

The first overtime had great scoring chances for both teams. The best came when Audrey Cournoyer got the puck in front of Cornell goaltender Amanda Mazzotta, and before she could make a move around her, Mazzotta pokechecked the puck and caused it to hop Cournoyer's stick. UMD had 12 shots and Cornell 11 in the first overtime. The majority of the second and third overtime's were spent in Cornell's zone, as UMD started to skate more of the third line and rotate Kacy Ambroz and Vanessa Thibault more into the first two lines to give players a break. Ambroz forechecked hard the 2nd and 3rd overtime and helped the Bulldogs create momentum, but they couldn't get anything by Mazzotta, until the last minute of the third overtime. Laura Fridfinnson was tripped as she gained the zone and a great scoring chance, creating a UMD powerplay. The powerplay expired, but UMD still had the zone when a Tara Gray blast from the blue line was tipped into the net by Jessica Wong, 6 seconds after the powerplay ended, to win the game in overtime. Mazzotta finished the game with 61 saves on 64 shots, while Harss stopped 47 of 49 shots she faced.

UMD captain Saara Tuominen assisted on UMD's first two goals, while Jamie Rasmussen assisted on the first, Cournoyer on the second, and Mariia Posa added to Gray's assist on Wong's game winning goal. Laura Fortino assisted on both Cornell goals, while Lauriane Rougeau and Karlee Overguard each had an assist for the Big Red.




Tara Gray slapshot that Wong tipped for game winner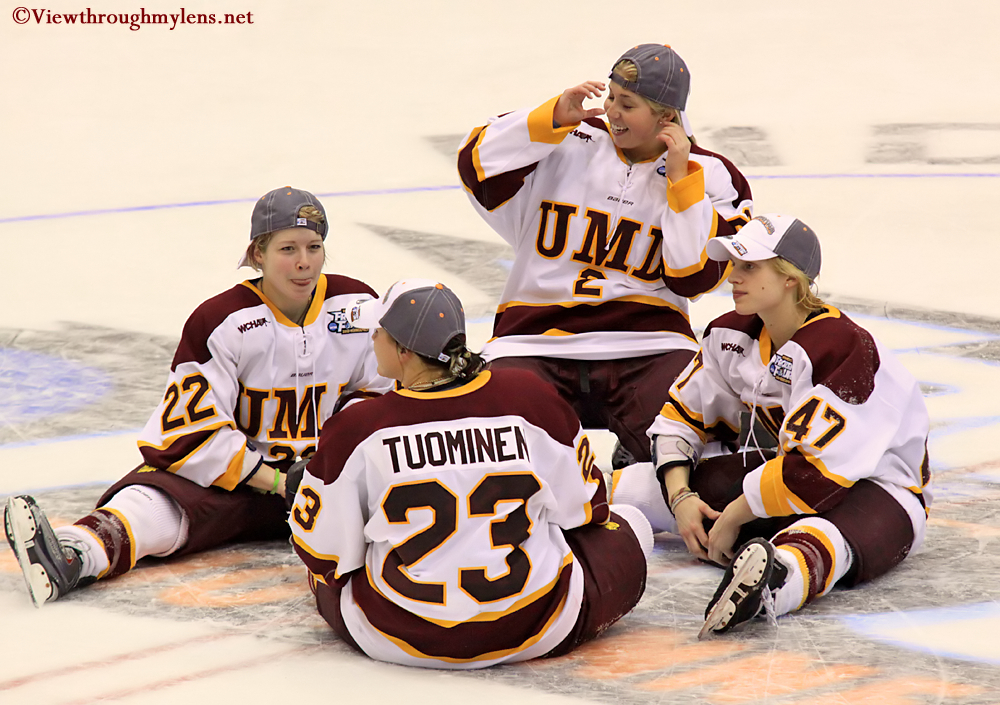 ALL the game shots