On Saturday night, the Badgers took it to the Bulldogs, scoring 3 first period goals in the final 1:34 of the period to take a 3-0 lead to intermission. Hilary Knight (17:05), Brianna Decker (18:04), and Kelly Jaminski (18:39) scored those goals.
Pernilla Winberg got the 'Dogs on the board, with her third of the year, assisted by Irwin and Wong, at 3:30 of the second period. Wisconsin again took a 3 goal lead, at 12:53 on a Prevost goal. UMD used it's timeout there and started go gain a little momentum, but with a delayed Wisconsin penalty, a missed pass to the blue line ended up sliding all the way down ice to the empty Bulldog net (with Jenny Harss pulled for the extra attacker) for a Badger goal. Saige Pacholok got credit for the goal, as well as being the player the delayed penalty was to be called on. A Knight penalty put UMD on a 5 on 3 powerplay, which Audrey Cournoyer capitalized on, scoring with 14 seconds left in the period, assisted by Irwin and Wong.
Katie Wilson started the third period with UMD's third goal of the game, just 1:50 in, giving the 'Dogs a shot at a comeback. Lana Steck, replacing Harss after two periods, stopped all 12 shots she faced in the third period, to also give UMD a shot at a comeback, but she was matched by Alex Rigsby in stopping 12 more Bulldog shots the remainder of the period. Rigsby stopped 80 of 86 total Bulldog shots on the weekend. Carolyne Prévost added an empty net goal at 19:36 to give the Badgers a 6-3 final decision.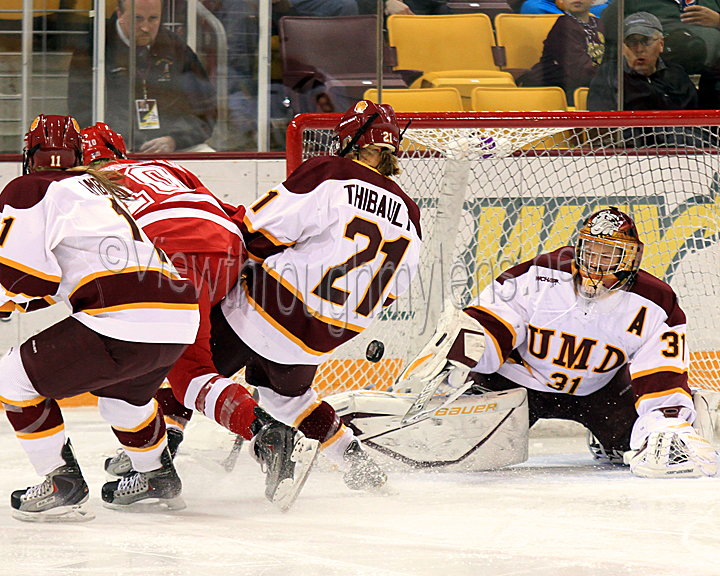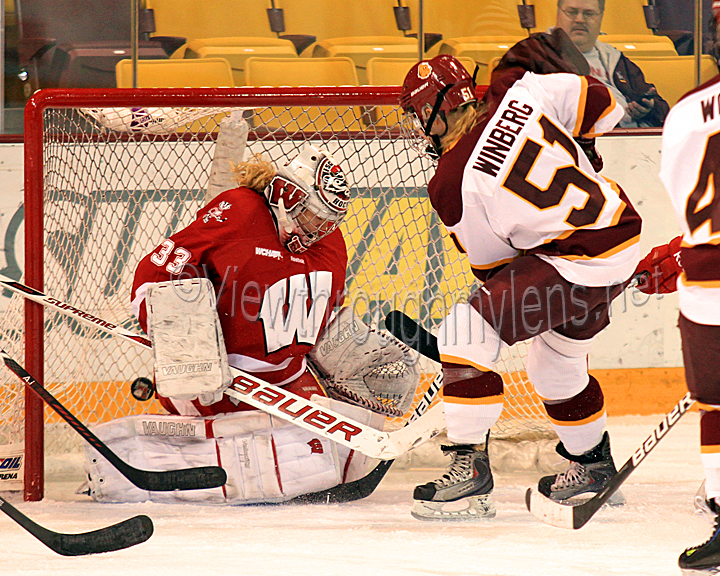 UMD takes on North Dakota next Saturday/Sunday afternoons at Amsoil Arena