Click here to view many more game photos
Coming into the 2 game series with Bemidji State, the Bulldog women were 2 points behind the Beavers in the WCHA standings, in 5th place after a short winless streak of 5 games.
The 'Dogs got down 1-0 quick, on an unassisted goal by Bemidji captain Erin Cody at 3:04 of the first.Tara Gray evened the score blasting a missile through a crowd and past goaltender Alana McElhinney, who never saw the puck.
Laura Fridfinnson notched goals 3:18 apart in the second period to give the 'Dogs a 3-1 lead, but Cody scored two more (for the hat trick) faster, scoring at 11:18 from the blue line on a bouncing puck that fooled Kim Martin and again at 12:34.
Elin Holmlov didn't wait long in the third period, scoring at 4:03 from Pernilla Winberg and Jessica Wong to put UMD ahead 4-3, that was the eventual final score. Kim Martin stopped 21 of 24 shots faced, while McElhinney stopped 31 of 35 UMD shots. Former Cloquet Lumberjack defenseman Montana Vichorek assisted on the two Cody goals in the third period.
Kacy Ambroz gets in tight on McElhinney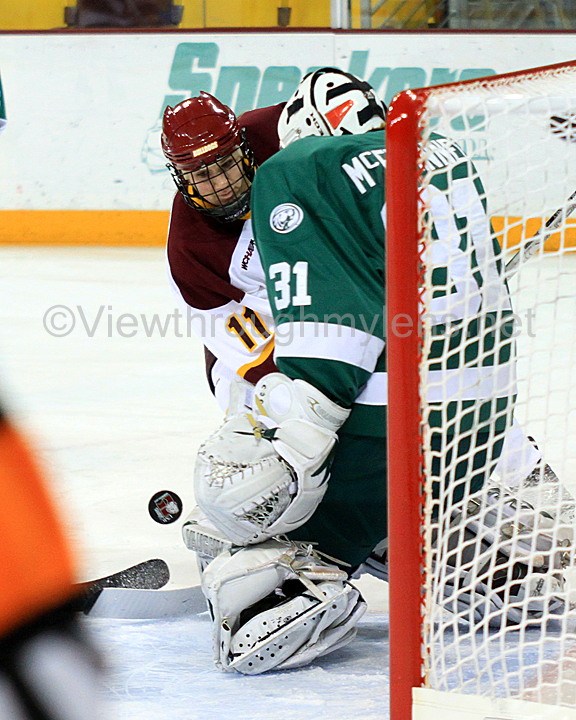 Friddy celebrates a goal