Compiled via collegehockeystats.net box scores for the 2 game series.
On Friday night, UMD scored the only goal of the first period, with Vanessa Thibault (from Haley Irwin and Pernilla Winberg) scoring a powerplay goal at 4:47 of the period. 
After the first period, it was the Natalie Spooner show, as she scored a natural hat trick in the second period, with goals at 5:17, 10:56, and 12:50 of the period.  She made it 4-1 with her fourth goal of the game at 7:23 of the third period. 
Jenny Harss took the loss Friday, stopped 22 of 26 shots she faced, giving way to Lana Steck the final 9:22 of the game.  Steck saw only one shot in her third period stint.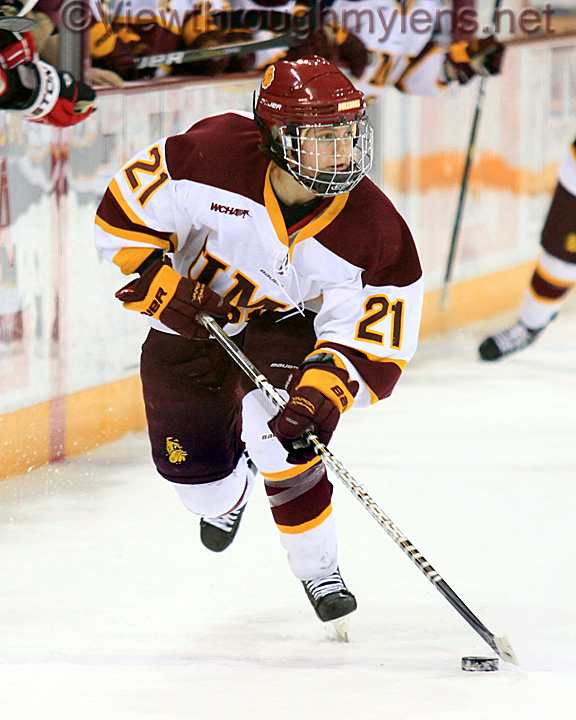 On Saturday, a 4 goal second period lifted the Dogs to a 6-2 victory over the Buckeyes.
OSU's Hokey Langan opened the scoring at 3:26, with a shorthanded, unassisted goal.  Jenna McParland (Irwin and Jessica Wong) evened the score with a powerplay goal at 14:11.
Pernilla Winberg (Thibault, Jessica Wong) gave UMD the lead with a shorthanded goal 59 seconds into the second period, then a two goal lead with a goal (from Emma Stauber) at 5:34.  OSU's Ally Tarr cut the UMD lead to 3-2 at 6:18, but that was as far as the Buckeyes got.  Wong (Katie Wilson and Thibault) and Katie Wilson scored 18 seconds apart, at 14:24 and 14:42 to put the 'Dogs up 5-2.
Irwin (Brienna Gillanders, Audrey Cournoyer) finished the scoring at 15:58 of the third period.  Jenny Harss stopped 36 of 38 shots to pick up her 6th win of the season on Saturday.